Dathomir was the home planet of the Zabraks and the Nightsisers. it was the homeworld of former Sith Lord Darth Maul. 
Appearances
During the Clone Wars, Ventress returned to Dathomir and her coven's village following Count Dooku's assassination attempt at Sullust. Ventress was then healed and accepted the Nightsisters' help in assassinating Dooku. Despite Ventress's failure, Talzin was able to reach out to Dooku and offer him a new assassin to replace Ventress.
Dooku traveled to Dathomir to the Nightsisters' village where he proposed an alliance between his Confederacy of Independent Systems and Talzin's coven. Talzin refused his offer but agreed to supply him with a Nightbrother similar to Maul. Dooku accepted her offer and departed. Ventress traveled to the Nightbrother village, where she chose several to participate in tests in their arena. After killing and wounding several of the chosen Nightbrothers, Ventress chose Savage Opress to be her replacement. Ventress then took Opress to the Nightsister's village, where they used their magick to increase his strength and power. After Opress demonstrated his loyalty by killing his brother, he was given to Dooku.
Jedi Master Obi-Wan Kenobi and Jedi Knight Anakin Skywalker went to Dathomir to speak with the Nightbrothers about Opress's whereabouts. Brother Viscus told them one of Talzin's Nightsisters took Opress as a mate to their village. Kenobi and Skywalker went to the Nightsisters, where Talzin told them that Opress was on Toydaria. After Opress's role was discovered, he returned to Dathomir. There, Talzin told him that his last surviving brother, Maul, was in exile somewhere in the Outer Rim. Opress left to find him, promising to return.
Around 20 BBY, General Grievous led an attack on the Nightsisters, in retaliation for the betrayal of Asajj Ventress and Mother Talzin. This assault led to the extermination of almost every Dathomirian Nightsister and thus resulting in the original Human Nightsisters eventually returning to prominence on Dathomir.
Opress later returned to Dathomir with Maul. At the village, Talzin was able to restore Maul's sanity and gave him a new pair of cybernetic legs before she disappeared.[19] Ventress returned to Dathomir with under cover Jedi Master Quinlan Vos to teach to use his emotions to to strengthen his bond with the Dark Side. After Ventress was killed, Vos and Kenobi returned her body to Dathomir. There, they gave her a funeral.
Maul returned to Dathomir with Dooku to the Nightbrothers village. There, Talzin attempted to use Dooku in a ritual that would restore her physical form. However, Grievous, Darth Sidious and their forces then laid siege to Dathomir. With the Shadow Collective decimated and Talzin dead, Maul and what remained of his forces fled.
During the fight against the Galactic Empire, Maul took Jedi Padawan Ezra Bridger to his homeplanet to conduct a ritual that would retrieve fragmented images of the Sith Holocron. There, Maul and Ezra learned Obi-Wan was the key to destroying the Sith. 
v

- e -

d
Characters
Main: Anakin Skywalker • Ahsoka Tano • Obi-Wan Kenobi • Clone Troopers • Asajj Ventress • Sheev Palpatine • Count Dooku •

General Grievous

• Yoda

Jedi: Jedi Temple Guard • Nahdar Vebb • Rig Nema • Finn Ertay • Sora Bulq • Knox • Caleb Dume • Depa Billaba • Kalifa • Jinx • O-Mer • The Gathering Younglings (Petro • Katooni • Ganodi • Zatt • Byph • Gungi) • Mace Windu • Plo Koon • Kit Fisto • Ki-Adi-Mundi • Saesee Tiin • Eeth Koth • Adi Gallia • Shaak Ti • Sifo-Dyas • Even Piell • Agen Kolar • Coleman Kcaj • Oppo Rancisis • Luminara Unduli • Quinlan Vos • Aayla Secura • Jocasta Nu • Cin Drallig • Tera Sinube • Ima-Gun Di • Ky Narec • Bolla Ropal • Ord Enisence • Halsey • Tiplee • Tiplar • Qui-Gon Jinn

Fallen Jedi: Pong Krell • Barriss Offee

Clone Troopers: Captain Rex • Cody • Gregor • Waxer • Boil • Odd Ball • Wolffe • Sinker • Boost • Warthog • Fox • Stone • Thorn • Thire • Jek • Rys • Hevy • Droidbait • Cutup • Clone Force 99 (Hunter • Wrecker • Crosshair • Tech • Colt • Havoc • Blitz • Ponds • Neyo • Gree • Buzz • Crasher • Jax • Hotshot • Whiplash • Bly • Bacara • Fil • Keeli • Jet • Doom • Monnk • Slick • Delta Squad • 99 • Appo • Echo • Fives • Jesse • Denal • Dogma • Hardcase • Kix • Tup • Hawk • 501st Legion

Galactic Republic: Kilian • Coburn • Dao • Sionver Boll • Gubacher • Meebur Gascon • Bric • El-Les • Argyus • Finis Valorum • Silman • Jar Jar Binks • Onaconda Farr • Lolo Purs • Meena Tills • Fang Zar • Riyo Chuchi • Mee Deechi • Halle Burtoni • Kharrus • Zinn Paulness • Kin Robb • Galactic Senate (Bail Organa • Padmé Amidala • Finis Valorum • Silman • Jar Jar Binks • Onaconda Farr • Lolo Purs • Meena Tills • Fang Zar • Riyo Chuchi • Mee Deechi • Halle Burtoni • Kharrus • Zinn Paulness • Kin Robb)

Rebel Alliance: Chewbacca • Mon Mothma • Gial Ackbar • Rex • Saw Gerrera •

Galactic Empire: Mas Amedda • Orn Free Taa • Nils Tenent • Wulff Yularen • Grand Moff Tarkin

Separatists: Trench • Mar Tuuk • Lok Durd • Riff Tamson • Nute Gunray • Lott Dod • Sib Canay • Poggle the Lesser • Tikkes • Nix Card • Mak Plain • Rush Clovis • Wat Tambor • Gume Saam • Mina Bonteri • Bec Lawise • Voe Atell • R3-S6 • Nuvo Vindi • Osi Sobeck

Mercenaries: Maul • Boba Fett • Aurra Sing • Greedo • Bossk • Dengar • Cad Bane • Todo 360 • Embo • Marrok • Sugi • Cato Parasitti • Castas • Latts Razzi • C-2 Highsinger • Seripas • Rumi Paramita • Robonino • Chata Hyoki • Shahan Alama • Rako Hardeen • Moralo Eval • Derrown • Twazzi • Mantu • Bulduga and Onca • Kiera Swan • Sixtat • Jakoli • Sinrich • Black Sun (Xomit Grunseit • Ziton Moj) • Gha Nachkt • The Hutt Clan (Jabba the Hutt • Rotta • Gardulla Besadii the Elder • Sy Snootles • Gorga Desilijic Aarrpo • Oruba • Arok • Marlo • Ziro the Hutt • Mama) • Hondo Ohnaka • Gwarm • Jiro • Goru • Turk Falso • Pilf Mukmuk • Pikk Mukmuk • Pyke Syndicate (Lom Pyke)

Coruscant: Tanivos Exantor Divo • Coruscant Underworld Police • Letta Turmond • Tiggs Leo • Trace Martez • Rafa Martez • Cassilyda Cryar • Ione Marcy • Nack Movers • Bannamu

Inner Rim: Gotal • Belugan • Kage • Krismo and Pluma Sodi • Otua Blank • Rigosso • Ramsis Dendup • Sanjay Rash • Okalin • Tandin • Lux Bonteri • Steela Gerrera

Mid Rim: Neeyutnee • Sio Bibble • Gregar Typho • Teckla Minnau • Roos Tarpals • Lyonie • Rish Loo • Peppi Bow • Roo-Roo Page • Clawdite

Other: Julia • Peteen • Frangawl Cult • Cato Neimoidia • Lama Su • Nala Se • AZI-3 • Plop Dribble's • Father • Daughter • Son • Force Priestesses • Dark Yoda Lee-Char • Nossor Ri • Tee Watt Kaa • Wag Too • Lawquane Family Karina the Great • Shmi Skywalker Lars • Savage Opress • Feral • Viscus • Talzin • Daka • Karis • Naa'leth • Talia • Asajj Ventress's mother • Pablo) • Satine Kryze • Bo-Katan Kryze • Korkie Kryze • Almec • Amis • Soniee • Lagos • Tal Merrik • Journeyman Protector • Pre Vizsla • Cham Syndulla • Gobi Glie • Numa • Thi-Sen • Chi Cho • Chi Eekway Papanoida • Che Amanwe Papanoida • Ion Papanoida Miraj Scintel • Atai Molec • Agruss • Darts D'Nar • Pieter • Tryla • Jaybo Hood • Amit Noloff
Groups and Organizations
Galactic Republic:

Galactic Senate

• Supreme Chancellor's Guard • Grand Army of the Republic •

Gungan Army

• Confederacy of Independent Systems •Sith •

Separatist Military

•

Droid Army

• Other:

Ohnaka Pirate Gang

• Skywalker Family •

Black Sun

•

Corporate Alliance

•

Council of Neutral Systems

•

Frangawl Cult

• Galactic Republic •

Galactic Senate

•

House Serenno

•

Hutt Clan

•

InterGalactic Banking Clan

•

Palpatine's Royal Guard

•

Pantoran Assembly

•

Pantoran Guard

•

Pau City Police

•

Peace Faction

•

Pyke Syndicate

•

Quarren Isolation League

•

Royal Court of Onderon

•

Royal Onderon Militia

•

Separatist Congress

•

Shadow Collective

•

Toydarian kingdom

•

Toydarian ministry council

•

Toydarian Royal Delegation

•

Trade Federation

•

Umbaran Militia

•

Utapaun Committee

•

War Faction

•

Zygerrian Slave Empire

•

Zygerrian Slavers Guild

•

Onderon Rebels

•

Separatist Droid Army

•

Undead Dathomirians

• [[
Droids
Galactic Republic: C-3PO • R2-D2 •

WAC-47

•

BNI-393

•

R2-KT

•

R4-P17

• Huyang •

M5-BZ

•

QT-KT

•

U9-C4

•

Russo ICS

Droid Army: Aqua Droid • Assassin Probe • Battle Droid • Super Battle Droid • Commando Droid • Buzz Droid • Crab Droid • Droideka • Droid Gunship • Droid Tri-Fighter • Dwarf Spider Droid • D-Wing Droid • Hyena Bomber Droid • Demolition Droid • Retail Caucus Droid • MagnaGuards • Octuptarra Combat Tri-Droid • Organic Decimator • Trident Assault Ship • T-series Tactical Droid • NR-N99 Tank Droid • Vulture Droid
Species
Aleena

•

Amani

•

Angels

•

Aqualishes

•

Bardottans

•

Belugans

•

Besalisks

•

Biths

•

Bivalls

•

Cereans

•

Chagrians

•

Chalactans

•

Coruscanti

•

Cosians

• Dathomirians •

Dugs

•

Duros

•

Falleens

•

Felucians

•

Force Wielders

•

Frenks

•

Gamorreans

•

Geonosians

•

Gossams

•

Gotals

•

Grans

•

Gungans

•

Harches

•

Houks

• Humans •

Hutts

•

Iktotchis

•

Iridonians

•

Ishi Tibs

•

Junkers

•

Kages

•

Kaleeshs

•

Kaminoans

•

Karkarodons

•

Kel Dors

•

Kiffars

•

Kindaloses

•

Lanniks

•

Leyakians

•

Lurmens

•

Mahrans

•

Mandalorians

•

Mikkians

•

Ming Pos

•

Mirialans

•

Moappas

•

Mon Calamaris

•

Muuns

•

Naboo (people)

•

Nautolans

•

Neimoidians

•

Niktos

•

Onderonians

•

Ongrees

•

Palliduvans

•

Pantorans

•

Parwans

•

Patitites

•

Pau'ans

•

Phindians

•

Poletecs

•

Prison Creature (Mortis)

•

Punn Rimbaud's species

•

Pykes

•

Quarren

•

Rodians

•

Rodisars

•

Roonans

•

Selkaths

•

Serennians

•

Siniteens

•

Skakoans

•

Snivvian

•

Sugi (species)

•

Sullustans

•

Talz

•

Tarnabs

•

Terrelian Jango Jumpers

•

Theelins

•

Thisspiasians

•

Tholothians

•

Togrutas

•

Toydarians

•

Trandoshans

•

Trogodiles

• Twi'leks •

Umbarans

•

Utais

•

Voe Atell's species

•

Volpais

•

Weequays

•

Wookiees

•

Zabraks

•

Zilkins

•

Zygerrians
Planets
Abafar

•

Abregado-rae

• Agamar •

Alderaan

•

Aleen

•

Alzoc III

•

Anaxes

•

Bal'demnic

•

Balnab

•

Bardotta

•

Bomis Koori IV

•

Bothawui

•

Carida

•

Carlac

•

Cato Neimoidia

•

Christophsis

•

Concord Dawn

•

Coruscant

•

Dac

•

Dagobah

•

Dantooine

• Dathomir •

Devaron

•

Falleen (planet)

•

Felucia

• Florrum •

Geonosis

•

Glee Anselm

•

Gwori

•

Hypori

•

Iego

•

Ilum

•

Iridonia

•

Kadavo

•

Kalevala

•

Kamino

•

Karkaris

•

Kashyyyk

•

Kiros

•

Lola Sayu

•

Lotho Minor

•

Mahranee

•

Malastare

• Mandalore • Maridun •

Mirial

•

Moraband

•

Mortis

•

Mustafar

•

Muunilinst

• Naboo •

Nal Hutta

•

Nelvaan

•

Oba Diah

•

Onderon

•

Ord Mantell

•

Orondia

•

Orto Plutonia

•

Parwa

•

Patitite Pattuna

•

Quarzite

•

Quell

•

Quell System

•

Rattatak

•

Raxus

• Raydonia •

Ringo Vinda

•

Rishi

•

Rodia

•

Ruusan

• Ryloth •

Saleucami

•

Sarrish

•

Scipio

•

Serenno

• Shili •

Skako Minor

•

Stobar

•

Stygeon Prime

•

Sullust

•

Tatooine

•

Teth

•

Third Moon of Vassek

•

Tibrin

•

Toydaria

•

Trandosha

•

Umbara

•

Utapau

•

Vanqor

•

Vassek

•

Wellspring of Life

•

Yavin 4

•

Yavin Prime

•

Yoda's Charge planet

•

Zanbar

• Zygerria
v - e -

d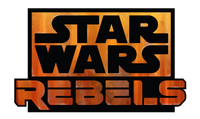 Media
Star Wars Rebels •
Star Wars Rebels Shorts
Books: Ezra's Gamble • Ahsoka • Thrawn• Rebel Journal by Ezra Bridger • Sabine: My Rebel Sketchbook • The Art of • The Visual Guide • Rise of the Rebels • The Rebellion Begins • Droids in Distress • Ezra's Duel with Danger • Battle to the End • Chopper Saves the Day • Sabine's Art Attack • Zeb to the Rescue • Ezra and the Pilot • A New Hero • Ezra's Wookiee Rescue • The Inquisitor's Trap • TIE Fighter Trouble • Hera's Phantom Flight • Kanan's Jedi Training • Always Bet on Chopper • A New Dawn
Comics: Strips • Cinestory Comics (Spark of Rebellion • Path of the Jedi • Maul • Grand Admiral Thrawn • Ahsoka) • Kanan
Servants of the Empire book series: Edge of the Galaxy • Rebel in the Ranks • Imperial Justice • The Secret Academy
Video Games: Ghost Raid Raid • Rebel Strike • Team Tactics • Recon Missions • Strike Missions • Special Ops • Disney INFINITY 3.0
Other: The Ultimate Guide
Groups and Organizations
Rebel Alliance

• The Empire • Jedi

Order of the Sith • Ghost crew • 103rd Task Force • 125th Task Force • 96th Task Force • Advanced Weapons Research • Afe Clan • Alexsandr Kallus' First Imperial Platoon • Alliance Army • Alliance Fleet • Alliance Intelligence • Alliance Military • AppSci SaberCats • Azmorigan's Men • Batonn Insurgents • Black Sun • BlasTech Industries • Botajef Defense Force • Bridger Family • Broken Horn Syndicate • Cadet • Mandalorians • Chiss Ascendancy • Chiss Defense Fleet • Clan Eldar • Clan Kryze • Clan Rook • Clan Saxon • Clan Vizsla • Clan Wren • Concordian Crescent Technologies • Confederacy Military • Confederacy of Independent Systems • Corellian Engineering Corporation • Corporate Alliance • Culoss • Cyndan Mining Guild • DT-F16's Squad • Dalborg Mining • Death Trooper • Death Watch • Denash Insurgents • Eirris Ryloth Defense Tech • Fardi Family • Free Ryloth Movement • Galactic Republic • Gold Squadron • Gorse Space Traffic Control • Grand Army of the Republic • Gray Syndicate • Heavy Stormtrooper • Higher Skies Advocacy Group • HoloNet News • House Kryze • House Vizsla • Imperial Army • Imperial High Command • Imperial Information Office • Imperial Intelligence • Imperial Military • Imperial Navy • Imperial Officer • Imperial Officer Corps • Imperial Royal Guard • Imperial Security Bureau • Imperial Starfighter Corps • Inquisitors • Iron Squadron (squadron) • Jedi • Jedi Council • Jedi Temple Guard • Jumptrooper • Kothal Roughnecks • Kuat Drive Yards • Lasan High Honor Guard • Lasan-Malamut Firearms Corporation • Lothal Police • Lothal Resistance • Mandalorian • Massassi Group • Mining Guild • Mining Guild Guard • Ministry of Agriculture • Moonglow Industries • Myder's Mynocks • N • Nite Owls • P • Partisans • Phoenix Squadron • Q • Q'anah's Marauders • R • Raada Resistance • Rebel Alliance Starfighter Corps • Rebel Command • Rebel Crewman • Rebel Pilot • Rebel Technician • Rebellion • Republic Military • Republic Navy • Rocket Stormtrooper • Rostu Squad • Sammun Insurgents • Sarlaccs • Scout Trooper • Sector Command • Separatist Agamar Holdout • Separatist Navy • Seventh Fleet • Sienar Fleet Systems • Sith • SoroSuub Corporation • Squad Two • Stormtrooper • Stormtrooper Charger • Stormtrooper Corps • Stormtrooper Grenadier • Stormtrooper Sniper • Syndulla Clan • Tarkin Initiative • The Protectors • Thrawn's Guard • Transcept Media Solutions • Unit Besh • Unit Forn • Zebulon Dak Speeder Corporation
Droids
ID9 Seeker Droid

•

IG-RM Thug Droid

•

Viper Probe Droid

•

IT-O Interrogator

•

GNK Power Droid

•

Spy Droid

•

2-1B Surgical Droid

•

Mouse Droid

•

Tour Guide Droid

•

RX-Series droid

•

Astromech Droid

•

Courier Droid

•

Protocol Droid

•

B1 Battle Droid

•

Droideka

•

OOM Command Battle Droid

•

Tactical Droid

•

Pit Droid

•

Dismantler Droid

•

Super Tactical Droid

•

Imperial Sentry Droid

•

Imperial Infiltrator Droid
Species
Anx

•

Aqualish

•

Besalisks

•

Chagrians

•

Chalactans

• Chiss •

Devaronians

•

Duros

•

Force Wielders

•

Geonosians

•

Grans

•

Ho'Dins

• Humans (Lothalites •

Mandalorians

•

Corellian

•

Coruscanti

) •

Ishi Tib

•

Ishi Tib

•

Ithorians

•

Jablogians

•

Jefi

•

Kages

•

Kaleesh

•

Kallerans

•

Kalleran

•

Kel Dors

• Lasat •

Loth-Bats

•

Loth-Cats

•

Loth-Rats

•

Loth-Wolves

•

Makurths

•

Mirialans

•

Mon Calamari

•

Mon Calamari

•

Nautolans

•

Neimoidians

•

Noghri

•

Pantorans

•

Pau'ans

•

Phindians

•

Rodians

•

Snivvians

•

Terellian Jango Jumpers

•

Theelins

•

Tognaths

•

Togorians

•

Togrutas

•

Tookas

•

Trandoshans

•

Tusken Raiders

• Twi'leks •

Ugnaughts

•

Umbarans

•

Weequays

•

Wookiees

•

Zabraks

•

Zeltrons
Planets
Agamar •

Alderaan

•

Andooweel

•

Ansion

•

Arkanis

• Atollon • Batonn •

Berzite

•

Bith

•

Boranda

•

Botajef

•

Boz Pity

•

Calcoraan

•

Carida

•

Cato Neimoidia

•

Chandel

•

Chandrila

•

Christophsis

•

Chrona

•

Concord Dawn

•

Corellia

•

Corulag

•

Coruscant

• Csilla •

Cyphar

•

Dagobah

•

Dantooine

• Dathomir •

Denash

•

Dennogra

•

Eriadu

•

Eufornis Major

•

Eufornis Minor

•

Fanha

•

Felucia

•

Galpos II

•

Ganthel

•

Gardaji

• Garel •

Geonosis

•

Gesaral Beta

•

Ghorman

•

Gorse

•

Haruun Kal

•

Ibaar

•

Ilum

•

Jalindi

•

Kaller

•

Kardoa

•

Kashyyyk

•

Keitum

•

Kessel

•

Kintoni

•

Kril'Dor

•

Krownest

•

Lahn

• Lasan •

Lira San

• Lothal •

Lotho Minor

•

Lysatra

• Malachor • Mandalore •

Marleyvane

•

Mendavi

•

Moltok

•

Montross

•

Moorja

•

Moraga

•

Mustafar

•

Mygeeto

• Mykapo •

Myomar

• Naboo •

Naraka

•

Nixus

•

Onderon

•

Oosalon

•

PM-1203

•

Quarzite

•

Raithal

•

Riin

• Ryloth •

Sammun

•

Seelos

•

Shantipole

• Shili •

Socorro

•

Stygeon Prime

•

Sullust

•

Synistahg

•

Takobo

•

Takodana

•

Tatooine

•

Teralov

•

Thabeska

•

Tirahnn

•

Tosste

•

Toydaria

•

Trandosha

•

Uba

•

Umbara

•

Uquine

•

Viamarr

•

Wor Tandell

•

Wynkahthu

•

Yarma

•

Yavin

•

Yost

• Zygerria