Jurassic World: Dominion Dominates Fandom Wikis - The Loop
Play Sound
"Art Attack" is one of the four shorts that serve as a prelude to the animated television series, Star Wars Rebels. It focused on Sabine Wren defacing the Imperials and insulting Stormtroopers, expressing herself with art.
Summary
Sabine shows off both her artistic and explosive skills against a squadron of stormtroopers
Synopsis
Sabine attacks an Imperal compound with her art so her fellow rebels aboard the Ghost can escape.
Cast
Vanessa Marshall as Hera Syndulla
Trivia
Episode Connections
Sabine commenting on how she read the Stormtroopers' manuals and knew they weren't very good is a foreshadowing of her being an imperial cadet, which is revealed in "Out of Darkness."
One of the Stormtroopers says "You Rebel Scum!", a line from the film Return of the Jedi.
Adaptations
"Art Attack" was adapted into the book, Rise of the Rebels.
References
↑

"Star Wars Rebels Recounted"—Star Wars Insider 156
v - e -

d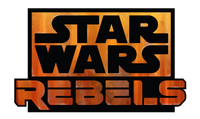 Media
Star Wars Rebels •
Star Wars Rebels Shorts
Books: Ezra's Gamble • Ahsoka • Thrawn• Rebel Journal by Ezra Bridger • Sabine: My Rebel Sketchbook • The Art of • The Visual Guide • Rise of the Rebels • The Rebellion Begins • Droids in Distress • Ezra's Duel with Danger • Battle to the End • Chopper Saves the Day • Sabine's Art Attack • Zeb to the Rescue • Ezra and the Pilot • A New Hero • Ezra's Wookiee Rescue • The Inquisitor's Trap • TIE Fighter Trouble • Hera's Phantom Flight • Kanan's Jedi Training • Always Bet on Chopper • A New Dawn
Comics: Strips • Cinestory Comics (Spark of Rebellion • Path of the Jedi • Maul • Grand Admiral Thrawn • Ahsoka) • Kanan
Servants of the Empire book series: Edge of the Galaxy • Rebel in the Ranks • Imperial Justice • The Secret Academy
Video Games: Ghost Raid Raid • Rebel Strike • Team Tactics • Recon Missions • Strike Missions • Special Ops • Disney INFINITY 3.0
Other: The Ultimate Guide
Groups and Organizations
Rebel Alliance

• The Empire • Jedi

Order of the Sith • Ghost crew • 103rd Task Force • 125th Task Force • 96th Task Force • Advanced Weapons Research • Afe Clan • Alexsandr Kallus' First Imperial Platoon • Alliance Army • Alliance Fleet • Alliance Intelligence • Alliance Military • AppSci SaberCats • Azmorigan's Men • Batonn Insurgents • Black Sun • BlasTech Industries • Botajef Defense Force • Bridger Family • Broken Horn Syndicate • Cadet • Mandalorians • Chiss Ascendancy • Chiss Defense Fleet • Clan Eldar • Clan Kryze • Clan Rook • Clan Saxon • Clan Vizsla • Clan Wren • Concordian Crescent Technologies • Confederacy Military • Confederacy of Independent Systems • Corellian Engineering Corporation • Corporate Alliance • Culoss • Cyndan Mining Guild • DT-F16's Squad • Dalborg Mining • Death Trooper • Death Watch • Denash Insurgents • Eirris Ryloth Defense Tech • Fardi Family • Free Ryloth Movement • Galactic Republic • Gold Squadron • Gorse Space Traffic Control • Grand Army of the Republic • Gray Syndicate • Heavy Stormtrooper • Higher Skies Advocacy Group • HoloNet News • House Kryze • House Vizsla • Imperial Army • Imperial High Command • Imperial Information Office • Imperial Intelligence • Imperial Military • Imperial Navy • Imperial Officer • Imperial Officer Corps • Imperial Royal Guard • Imperial Security Bureau • Imperial Starfighter Corps • Inquisitors • Iron Squadron (squadron) • Jedi • Jedi Council • Jedi Temple Guard • Jumptrooper • Kothal Roughnecks • Kuat Drive Yards • Lasan High Honor Guard • Lasan-Malamut Firearms Corporation • Lothal Police • Lothal Resistance • Mandalorian • Massassi Group • Mining Guild • Mining Guild Guard • Ministry of Agriculture • Moonglow Industries • Myder's Mynocks • N • Nite Owls • P • Partisans • Phoenix Squadron • Q • Q'anah's Marauders • R • Raada Resistance • Rebel Alliance Starfighter Corps • Rebel Command • Rebel Crewman • Rebel Pilot • Rebel Technician • Rebellion • Republic Military • Republic Navy • Rocket Stormtrooper • Rostu Squad • Sammun Insurgents • Sarlaccs • Scout Trooper • Sector Command • Separatist Agamar Holdout • Separatist Navy • Seventh Fleet • Sienar Fleet Systems • Sith • SoroSuub Corporation • Squad Two • Stormtrooper • Stormtrooper Charger • Stormtrooper Corps • Stormtrooper Grenadier • Stormtrooper Sniper • Syndulla Clan • Tarkin Initiative • The Protectors • Thrawn's Guard • Transcept Media Solutions • Unit Besh • Unit Forn • Zebulon Dak Speeder Corporation
Droids
ID9 Seeker Droid

•

IG-RM Thug Droid

•

Viper Probe Droid

•

IT-O Interrogator

•

GNK Power Droid

•

Spy Droid

•

2-1B Surgical Droid

•

Mouse Droid

•

Tour Guide Droid

•

RX-Series droid

•

Astromech Droid

•

Courier Droid

•

Protocol Droid

•

B1 Battle Droid

•

Droideka

•

OOM Command Battle Droid

•

Tactical Droid

•

Pit Droid

•

Dismantler Droid

•

Super Tactical Droid

•

Imperial Sentry Droid

•

Imperial Infiltrator Droid
Species
Anx

•

Aqualish

•

Besalisks

•

Chagrians

•

Chalactans

• Chiss •

Devaronians

•

Duros

•

Force Wielders

•

Geonosians

•

Grans

•

Ho'Dins

• Humans (Lothalites •

Mandalorians

•

Corellian

•

Coruscanti

) •

Ishi Tib

•

Ishi Tib

•

Ithorians

•

Jablogians

•

Jefi

•

Kages

•

Kaleesh

•

Kallerans

•

Kalleran

•

Kel Dors

• Lasat •

Loth-Bats

•

Loth-Cats

•

Loth-Rats

•

Loth-Wolves

•

Makurths

•

Mirialans

•

Mon Calamari

•

Mon Calamari

•

Nautolans

•

Neimoidians

•

Noghri

•

Pantorans

•

Pau'ans

•

Phindians

•

Rodians

•

Snivvians

•

Terellian Jango Jumpers

•

Theelins

•

Tognaths

•

Togorians

•

Togrutas

•

Tookas

•

Trandoshans

•

Tusken Raiders

• Twi'leks •

Ugnaughts

•

Umbarans

•

Weequays

•

Wookiees

•

Zabraks

•

Zeltrons
Planets
Agamar •

Alderaan

•

Andooweel

•

Ansion

•

Arkanis

• Atollon • Batonn •

Berzite

•

Bith

•

Boranda

•

Botajef

•

Boz Pity

•

Calcoraan

•

Carida

•

Cato Neimoidia

•

Chandel

•

Chandrila

•

Christophsis

•

Chrona

•

Concord Dawn

•

Corellia

•

Corulag

•

Coruscant

• Csilla •

Cyphar

•

Dagobah

•

Dantooine

• Dathomir •

Denash

•

Dennogra

•

Eriadu

•

Eufornis Major

•

Eufornis Minor

•

Fanha

•

Felucia

•

Galpos II

•

Ganthel

•

Gardaji

• Garel •

Geonosis

•

Gesaral Beta

•

Ghorman

•

Gorse

•

Haruun Kal

•

Ibaar

•

Ilum

•

Jalindi

•

Kaller

•

Kardoa

•

Kashyyyk

•

Keitum

•

Kessel

•

Kintoni

•

Kril'Dor

•

Krownest

•

Lahn

• Lasan •

Lira San

• Lothal •

Lotho Minor

•

Lysatra

• Malachor • Mandalore •

Marleyvane

•

Mendavi

•

Moltok

•

Montross

•

Moorja

•

Moraga

•

Mustafar

•

Mygeeto

• Mykapo •

Myomar

• Naboo •

Naraka

•

Nixus

•

Onderon

•

Oosalon

•

PM-1203

•

Quarzite

•

Raithal

•

Riin

• Ryloth •

Sammun

•

Seelos

•

Shantipole

• Shili •

Socorro

•

Stygeon Prime

•

Sullust

•

Synistahg

•

Takobo

•

Takodana

•

Tatooine

•

Teralov

•

Thabeska

•

Tirahnn

•

Tosste

•

Toydaria

•

Trandosha

•

Uba

•

Umbara

•

Uquine

•

Viamarr

•

Wor Tandell

•

Wynkahthu

•

Yarma

•

Yavin

•

Yost

• Zygerria